Institutions that are seeking  Silver Level status who were previously at the Bronze level or have received pre-approval must submit an application using the format below.
Part 1:
As part of your online submission, the following information is required. You'll enter it into the form on the application portal.
Program Information and Pledge Affirmation
College/School/Program Name
b.  University Name
c.  Dean or Program Head's Name
d.  Submitter's contact information
e.  Date of application submission
f.  Affirm that your current college/school/program dean/program head has committed to the pledge and that their name appears on the ADRP signature website. If the current dean has not signed the pledge yet, follow 

this link

to add their name.
Part 2:
The cover page of your application should be a signed and dated letter from the dean reaffirming their support of the application to the ADRP.  Please use the text provided below on your institutional letterhead.  This letter be submitted as a combined PDF with your narrative and does not count in the 10 page limit.
I, (name of Dean), am in full support of this reaffirmation to the ASEE Diversity Recognition Program (ADRP) at the Bronze Level.  [Date]
Part 3: Diversity, Equity, and Inclusion Plan
Include a copy of the original diversity plan and the current version of the diversity plan.
Discuss any updates or modifications to the plan and the rationale for the changes.
Substantive documentation that faculty, staff, and student perspectives have been obtained as part of ongoing efforts for improvement.
Part 4: Narrative
Achievements to-date and progress towards achieving the goals identified in the diversity plan; include actions undertaken, metrics used to measure progress, and current status of initiatives and metrics.
Update on the college culture and how improvements in inclusivity are being measured and progress in culture since the bronze award.
Sustainability plan:  Clear 3-year plan for future progress including actions taken to make sure the progress is sustainable, embedded in college systems and structures, and further enhances diversity
Data on Diversity, Equity, and Inclusion
Include demographic data since the receipt of Bronze Award on the following categories: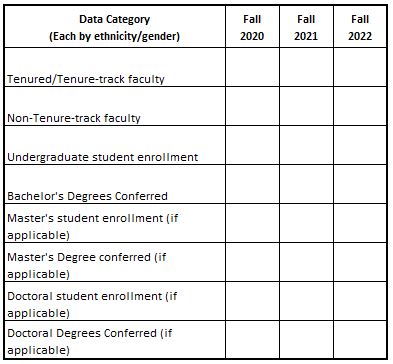 Part 5: Payment
The application fee is $425 and is payable by credit card online once you submit.
For More Information
Questions about the application process may be directed to diversityrecognition@asee.org  with "ADRP Silver Application" in the subject line.  The application window for this round will be  September 1, 2022 through  November 1, 2022.